"Client relationships—that's an account manager or account director's job."
There are many naive things I believed as a young creative, and this one probably goes to the top of the list. The more experience I've gotten under my belt, the more I've realized that managing great client relationships is everyone's job. Clients are why we're in this business. And even if you're not picking up the phone or emailing clients directly doesn't mean you're not on the hook to deliver an amazing client experience.
Managing great client relationships is everyone's job.
Since I don't have a time machine to go back and give advice to my junior copywriter self, here are a few things I'd recommend to any creative for creating better client relationships.
Acknowledge when clients know more
I spent a short amount of time on the client side. I honestly recommend this for all creatives at some point in your career. It was eye opening on many levels. My biggest takeaway? Clients know more than you think they do.
Pre-client side, I'd be all like "Oh, the client just doesn't get it" or "The client isn't creative enough to see this is a good idea." Of course, with all your research and outside unbiased perspective, you must be the one who's right? Not necessarily. At the end of the day, the client knows their brand and audiences best, and they're the ones who are accountable.
And they likely have more expertise than you give them credit for. When I was the client, my agency often forgot I knew the game. Needless to say, I knew it didn't take two weeks to update an ad headline. I also knew my feedback deserved to be considered, not just because I was a creative in another life, but because my job was to advocate for the brand.
Be kind—there's more underneath the surface
One other thing that has been a rude awakening is that your client is up against more than you realize. Just because they don't go with the better, crazier, out-there idea it doesn't mean they don't want to. There's more than what's on the surface. Their budgets are being slashed. They're navigating internal politics. They're fighting competing priorities. They're doing 90 things at once. When pushing back, remember to keep your emotions in check to see the bigger picture and consider what else might be at play if you're not seeing eye to eye.
Actual representation of all creatives' work at some point in their career. Also, follow this Instagram account STAT if you are not already.
Invite them into the process
As creatives, it's our natural tendency to be all like "look how great this idea is!" and upset when the client can't see it. As a creative team, we often remind ourselves that clients are more likely to go with that crazier, out-there idea when they can see why it's a better idea—with the data, rationale, or inspiration to prove the case. So if there's an insight about your audience that led you to the idea, share it. Got a great data-driven rationale why the image will connect with your target audience? Back that thing up.
Be BFFs with your AM/PM team
Think this one is more about your team than your clients? Bear with me. I've worked at places where it was "Creative" versus "Account." Where creatives expected the account team to sell their work without true partnership. On the flipside, I've seen firsthand at Envisionit how partnering with your AMs and PMs as a united front leads to better work and quicker, easier client alignment. Put simply, help them help you keep the client happy.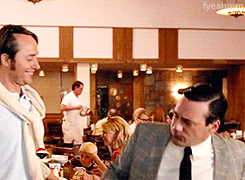 Look for opportunities
When it comes down to it, true partnership from a creative standpoint means having a vision on your client's behalf and sharing it. That means recognizing when creative tweaks could improve performance. Or going beyond what's in the SOW to pitch a new idea that can lead to growth for your client and additional work for your agency.
Just a few years ago, we were hired as the media agency for one of our clients. When we saw an opportunity to increase performance through better storytelling, our team pitched a creative campaign. They bought it. Not only did this lead to a creative AOR scenario, but it's led to increased conversions year over year with each campaign. In short, advocating for your clients can also mean finding opportunities for your team and agency.
True partnership from a creative standpoint means having a vision on your client's behalf and sharing it.
Now I'll throw it out to other creatives out there—how else have you been able to elevate the client experience?